Fast and Effective Water Mitigation for Amityville Businesses
2/8/2021 (Permalink)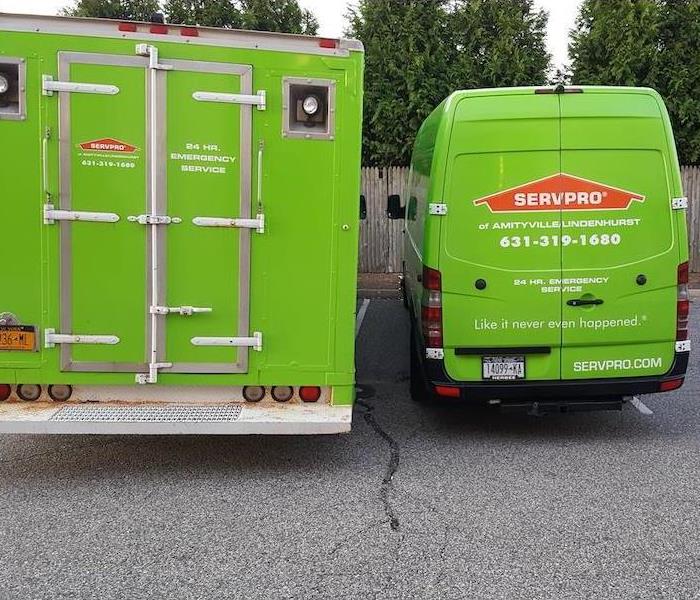 SERVPRO technicians are IICRC certified with all the necessary equipment and knowledge for the water restoration you need.
SERVPRO Restorers Perform Commercial Water Mitigation in Amityville
Originally known as Huntington Southwest Neck, Amityville is a village in Babylon town, Suffolk County, in the state of New York. Its early inhabitants adopted the name Amityville at a raucous village meeting in 1846. Sammual Ireland, a prominent Amityville citizen, became restless during the debate and suggested the name "Amity," which means friendly. The villagers in attendance agreed to name the village after Amity, his schooner.
The village's history
Amityville was rich in salt hay, which attracted a significant number of farmers from Huntington into the area. The farmers began settling in Amityville in 1653 and used the salty hay as animal fodder. On March 3, 1894, the village became Babylon Town's second incorporated area. The first Village President was Charles Wood.
Amityville was a popular tourist point of interest with large homes and hotels on the bay. In its infancy, the village had strong ties to the farming, fishing, and boating industries. However, as time went by, the farms and marine industries paved the way for tourism. The beaches and cool breezes from the Great South Bay offered summer visitors comfort.
Amityville's economy
From the beginning, the village has been the heart of transport and business. In 1867, the Southside Railroad began its operations in the area, and in 1909, the first Cross-Island trolley line came from Huntington.
In 1892, investors founded the Bank of Amityville, and in 1907, the village's library was organized. In the late 1800s and early 1900s, the village became a popular summer resort area for tourists.
Water damage in resorts or other places of business can lead to short- or long-term loss of customers. When a water loss occurs, getting help from an experienced restoration firm is vital.
How SERVPRO technicians perform commercial water mitigation in businesses affected by water damage
SERVPRO's technicians are available at any time to perform commercial water mitigation in your Amityville business. After water damage takes place, it is essential to take immediate steps to prevent significant repair costs.
Whether it is:
A problem with your sewer system
A leaking water heater
A roof leak repair
A burst pipe
Our professionals can handle it all.
We have the training, experience, and necessary equipment to manage water damage of any magnitude. Our technicians respond fast to our customers' emergencies. We can use portable pumps to remove the water and desiccant dehumidifiers with two 20 inch reinforced duct lines to enhance air movement into the property. The equipment helps us to hasten the drying process.
SERVPRO of Amityville / Lindenhurst has the team of restorers you need when water threatens your business. Contact us today at (631) 319-1680. We're Faster To Any Size Disaster.